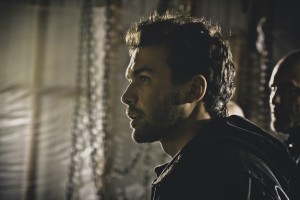 WRITER – DIRECTOR – SCRIPT CONSULTANT
Konstantinos was born in Athens, Greece in 1987.
As an only child, his imagination was his playmate. He would spend hours daily creating stories influenced by mythology and fairytales. By age 11 he was creating his own comic books. Storytelling soon became a passion and that passion took shape in the art of film making..
At age of 17 Konstantinos followed his dream of becoming a director by studying Film and TV in Bournemouth University in the UK. Instead of completing the one thesis film assigned to all students, Konstantinos' ambition led him to create three short films, which surprised the professors with their creative range and led to him being one of two students in his class to graduate with an A+.
His first gig after film school got him acquainted with the Hollywood way of making movies, by being one of the assistant directors in Donald Petrie's "My Life in Ruins" starring Nia Vardalos (2009). The Los Angeles Film School followed, which led to his six year move to Los Angeles. He co founded Homeric Pictures a production company through which Konstantinos and his colleagues were creating promotional material for emerging artists. He wrote and directed nearly 100 scenes and web-shorts and 14 short films of various genres some of which received several festival submissions and awards.
During that time he developed three feature film scripts and a TV show bible while studying in depth different perspectives on the art of storytelling including Aristotle, Joseph Campbell, Blake Snyder, Christopher Booker and Robert Mckee.
New York followed where Konstantinos was hired by the executives at York Studios to supervise script development stages on future productions. His skills as a script consultant led him into collaborating with a boutique production company whose feature screenplay was then offered a distribution deal by Millennium Films. He has also been hired several times to adapt true stories or novels into treatments.
He is currently working into the advanced development stages of his first feature film as a writer/director, a swords and sandals project about the only survivor of the famed battle of the 300 Spartans.